Scientist says go the stuffing and never the illness on Thanksgiving
Breadcrumb Trail Links
Eat
Whole rotisserie turkey Photo by supplied /Ontario Turkey
Reviews and recommendations are unbiased and products are independently selected. Postmedia may earn an affiliate commission from purchases made through links on this page.
Article content
Canadians are welcoming with open arms a chance to sit and celebrate the Thanksgiving season.
Advertisement 2
This advertisement has not loaded yet, but your article continues below.
Article content
Mind you, they're not planning on sharing the festivities with any food-borne illnesses.
With turkey high up on everyone's Thanksgiving day list, it's time to take proper measures for a safe and healthy meal, says a University of Guelph food scientist whose specialty is the study of food-borne illness prevention.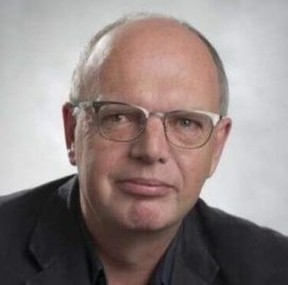 Dr. Keith Warriner Photo by University of Guelph /supplied
Dr. Keith Warriner is a professor in the Department of Food Science at the Ontario Agricultural College, and he looks at ways to decontaminate poultry and validate cooking instructions.
"Thanksgiving dinner is a busy time, the four pillars of food safety are critical – specifically cook (ensure to use a meat thermometer), separate (don't mix raw foods with cooked), chill (keep refrigerated foods cold), and clean (handwashing, cutting boards, knives)," said Warriner in a recent interview. "This will ensure your guests go away with good memories rather than a bout of food-borne illness."
Advertisement 3
This advertisement has not loaded yet, but your article continues below.
Article content
Raw turkey can become contaminated with various microbes, including salmonella, campylobacter, clostridium perfringens and staphylococcus aureus, said Warriner, "all of which can cause mild to severe gastrointestinal illnesses – the latter may produce a toxin that cannot be destroyed by cooking."
Warriner offers the following tips for each stage of preparing a turkey:
Fresh or frozen? 
For fresh turkey, plan to purchase the bird no more than three days before your meal and store it in the bottom of the refrigerator. Don't place turkey on top shelf, because juices containing harmful microbes can drip onto foods below.
Best way to defrost a turkey?
Frozen turkey takes time to thaw, and care has to be taken to ensure the temperature of the bird doesn't fall within the danger zone. Do not thaw turkey on counter or in fridge. Safest defrosting method is to place frozen turkey, still in its wrapping, into a sink of cold water, which helps defrost the turkey safely and quickly, while keeping the surface sufficiently cold to prevent the growth of microbes.
Advertisement 4
This advertisement has not loaded yet, but your article continues below.
Article content
Tips for prepping a turkey for cooking?
DO NOT wash any part of a thawed turkey in sink, however tempting it is. Instead, turkey should be unpacked in a nearby, easy-to-sanitize area.
Stuffing should also be avoided because it will insulate turkey and prevent hot air from cooking inside of bird. Instead, stuffing should be cooked on stove-top or baked in an oven.
All prepping tools should be washed with a chlorine solution – one cap of bleach per five litres of water.
What's the best way to cook a turkey?
Turkeys take a long time to cook and need to reach a temperature of 73C (163.4F) to be fully cooked (15 minutes of cooking per pound).
What's the safest way to carve a turkey?
Turkeys need to rest for 15 to 30 minutes before carving, but no more than two hours at room temperature because Clostridium perfringens can proliferate and cause food poisoning.
Advertisement 5
This advertisement has not loaded yet, but your article continues below.
Article content
Always use a different cutting board than the one used for the raw turkey. After the turkey has been carved, it should be kept warm in an oven during mealtime or stored in a fridge.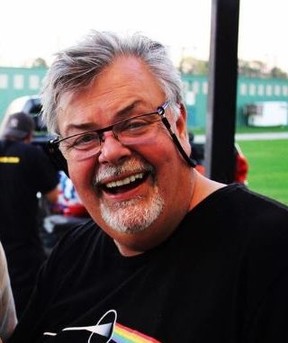 Chef Ted Reader supplied
Tips from Ted!
Take the heat out of your kitchen this Thanksgiving and try cooking your turkey outside! Chef Ted Reader (tedreader.com) shares his top tips for a delicious smoked or rotisserie turkey.
Dry-brining or soaking your whole turkey in a salt-water bath prior to cooking keeps your bird nice and moist
Injecting the turkey breast with butter or stock adds fat, flavour and additional moisture to your whole turkey
For an intense flavour while smoking choose mesquite or hickory wood
For a delicious rotisserie turkey truss the legs and wings with butcher twine and feed the spit through the bird and place on your 325F preheated charcoal or gas grill
Check the temperature with a digital prob thermometer. Your turkey is done when a meat thermometer inserted in the inner thigh reads 180F (82°C) for a stuffed turkey or 170F (77°C) for an unstuffed turkey
Advertisement 6
This advertisement has not loaded yet, but your article continues below.
Article content
Turkey Two Ways. The following recipes are courtesy Ontario Turkey (ontarioturkey.ca)
Whole Rotisserie Turkey
Cook time: approx. 2 1/2 hours
1 fresh or frozen turkey, about 12 lb/ (thawed if frozen)
2 Tbsp. EACH packed light brown sugar and kosher salt
2 tsp. EACH dried thyme leaves, rosemary
2 tsp (10 mL) baking powder
1 tsp. EACH, garlic powder, onion powder and Old Bay seasoning
1 onion, quartered
2 each fresh rosemary and thyme sprigs
Remove giblets and neck from turkey and pat dry inside and out. Place on rack in roasting pan. Gently lift skin around breast and drumsticks.
In a bowl, stir together sugar, salt, thyme, rosemary, baking powder, garlic and onion powder and Old Bay seasoning. Sprinkle rub inside cavities of turkey and under skin of breast and drumsticks. Sprinkle remaining evenly all over turkey. Refrigerate, uncovered for at least 2 hours or up to overnight.
Advertisement 7
This advertisement has not loaded yet, but your article continues below.
Article content
Place drip tray or foil under grill if desired. Prepare charcoal or gas grill for rotisserie grilling and set temperature for 325F.
Tuck onion and fresh herbs in turkey cavity. Truss legs and wings of turkey with butcher string to remain tight during cooking. Put spit rod through turkey and secure with spit forks in centre. Place in rotisserie motor and turn on. Close lid and try to keep grill temperature between 300F and 350F for about 2 1/2 hours or until meat thermometer reaches 170F in thigh and leg. Remove to cutting board and let rest for 20 minutes before removing from spit rod and slicing to serve.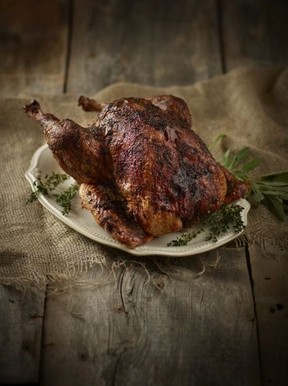 Smoked Spiced Turkey Photo by supplied /Ontario Turkey
Smoked Spiced Turkey
Cook time: 3 1/2 hours
1/4 cup butter, melted
2 Tbsp. canola oil
3 Tbsp. packed brown sugar
2 Tbsp. dried sage leaves
Advertisement 8
This advertisement has not loaded yet, but your article continues below.
Article content
1 Tbsp. EACH dried thyme leaves and ancho chili powder
1 Tbsp. salt
1/2 tsp. fresh ground pepper
1/2 tsp. garlic powder
1 turkey, giblets and neck removed (about 14 lb.)
2 stalks celery, coarsely chopped
1 large carrot, coarsely chopped
1 onion, chopped
Fresh sage leaves
In a small bowl, stir together butter, oil, sugar, sage, thyme, ancho, salt, pepper and garlic powder.
Place turkey in foil roasting pan. Fill back and neck cavity with celery, carrot, onion and sage. Brush all over with  spice mixture.
Turn smoker on and preheat to 325F. for 10 minutes. Place turkey in smoker and smoke for about 3 1/2 hours or until  thermometer reaches 170F.
Let turkey rest, covered for 20 minutes before carving.
BBQ Variation: If using a barbecue, set soaked wood chips over high on grill. Turn other side of barbecue off and place turkey on unlit side. Try and keep the temperature at 325F. in barbecue while cooking turkey.
Share this article in your social network
Advertisement 1
This advertisement has not loaded yet, but your article continues below.
Comments
Postmedia is committed to maintaining a lively but civil forum for discussion and encourage all readers to share their views on our articles. Comments may take up to an hour for moderation before appearing on the site. We ask you to keep your comments relevant and respectful. We have enabled email notifications—you will now receive an email if you receive a reply to your comment, there is an update to a comment thread you follow or if a user you follow comments. Visit our Community Guidelines for more information and details on how to adjust your email settings.