NEW IN TOWN: A take a look at among the new fooderies and companies popping up in Guelph
Big Bargain Wholesale is on Woodlawn Road in Guelph.
This article is being updated regularly as we learn of new businesses and restaurants opening and closing in Guelph. Spot a new business or know of a longtime business closing its doors? Share it with our newsroom at [email protected] with the subject line: New in Town.
Updated on Jan. 14, 2022
It could be Sunday fun day for shoppers at a new bargain store on Woodlawn Road in Guelph.
Big Bargain Wholesale opened recently and a grand opening event takes place on Sunday, Jan. 15, with the first 100 customers that day getting a free gift.
The store sells appliances, clothes, kitchenware, games and more. The grand opening is from 10 a.m. to 7 p.m. Check out details here.
Big Bargain Wholesale is at 251 Woodlawn Rd. W., Unit 10, in the same plaza as Woodlawn Bowl and near McDonald's.
SPRING SWING
Speaking of Woodlawn, the road that is home to a bowling alley and pool hall looks like it will soon house an indoor simulated golf spot too.
The Golf House on Woodlawn Road in Guelph. — Ned Bekavac/Metroland
Work is underway at the Golf House on Woodlawn, across the street from Galaxy Cinemas Guelph.
"The Golf House has something for everyone, come experience one of our five state of the art golfing simulators, book out our spacious private bay with your friends, take advantage of our fully stocked bar and kitchen or relax in our comfortable lounge/ bar area," reads guelphgolfhouse.com.
"Whether you're a scratch golfer or looking to keep up on your game or you've never touched a club before, the Golf House seeks to make golf fun and exciting for everyone!"
The Golf House, which plans to open in the spring, is at 650 Woodlawn Rd. W.
FROMAGERIE FINDS NEW HOME
An artisan vegan cheese purveyor has wheeled its way to a new home in Guelph. Green Goddess Fromagerie is now on Woolwich Street after moving from Elizabeth Street.
"We love cheese, and we don't think that dairy-free cheese needs to be a compromise," reads greengoddessfromagerie.com.
The new location is at 563 Woolwich St.
SEW LONG, FAREWELL
A local studio and shop for sewists and more is no more.
Jo Adlington, owner of make 1, announced late last year that the local spot would be closed for good as of Dec. 17.
"As much as I will miss all of you who have supported make 1, it is now time for me to embrace the next chapter of my life: retirement!" reads the post.
"Thank you, thank you for your support! Thank you for your purchases, for sharing the studio space with us, liking our posts, or bring in your latest creation to share with me."
Located at 88 Waterloo Ave. in Guelph and dubbed a maker studio for sewists and makers of fibre and fabric, make 1 opened in 2019.
TEA TIME
A new bubble tea place has opened up in Guelph.
Kung Fu Tea is at 206 Silvercreek Pkwy. N., unit 2, next to Domino's Pizza.
Specials from Jan. 9 to 31 are: Passion Fruit QQ ($4.80, any size), Ginger Milk Tea ($4.80, any size) and Kung Fu Ginger Tea ($4, any size, hot only).
Check out the Kung Fu Tea menu at kungfuteatoronto.com.
The end of the year is near, and here is a look at some new Guelph food places that are popping up with 2023 around the corner.
IT'S ALWAYS SUNNY
Signs are up for a new breakfast and lunch resto at the former home of the Vienna Restaurant, a longtime downtown Guelph establishment.
Sunny Morning Breakfast & Lunch has 'opening soon' and 'now hiring' signage up in the windows at 28 Macdonell St.
The Vienna closed earlier this year. For more on Sunny Morning and the Vienna, read WHAT'S GOING ON HERE?: New eatery set for former site of storied Guelph restaurant.
The Sunny Morning Breakfast & Lunch website is sunnymorning.ca.
TAHINI TREAT
In the south end, a new food spot featuring Mediterranean cuisine is holding its grand opening on Saturday, Dec. 10.
Tahini's opened recently at 5 Clair Rd. W., unit 3, and on Saturday people can enjoy 50 per cent off all wraps and bowls during grand opening festivities.
For info, visit tahinis.com.
The new location is in the Clair Road plaza that includes Food Basics and Shoeless Joe's. Work on the east side of the plaza continues on what will eventually be home to a Pet Smart.
1122 AT 281
On the north side of town, now open on Woodlawn Road is Sushi 1122. It includes pick-up and delivery options and for those dining in, there is an all-you-can-eat choice.
The restaurant is located at 281 Woodlawn Rd. W., next to the Super 8 Hotel. The spot was previously home to Samura Japanese Restaurant.
Visit the Sushi 1122 website at guelphsushi.ca.
WHEN ONE DOOR CLOSES, ANOTHER ONE OPENS
A new pizza place has opened on Silvercreek Parkway at the same location where another recently closed.
Pizzalux, at 218 Silvercreek Pkwy. N., "is committed to offering the best pizza experience to our customers, making you wanting to come back for more!! Great tasting pizza prepared with fresh ingredients, delivered right to your door. Whether you drop by for a slice or order out you will love our pizza!" reads its website.
To check out their menu, visit pizzalux.ca. You can find them near Food Basics and Value Village on Silvercreek.
The location of the new eatery was recently home to Avanti Pizza.
"It is with a heavy heart that we announce that Avanti will be closing down on Nov. 30, 2022," reads the Avanti website.
"Thank you for an incredible 7+ years of love and support. It was a pleasure serving each and every one of you."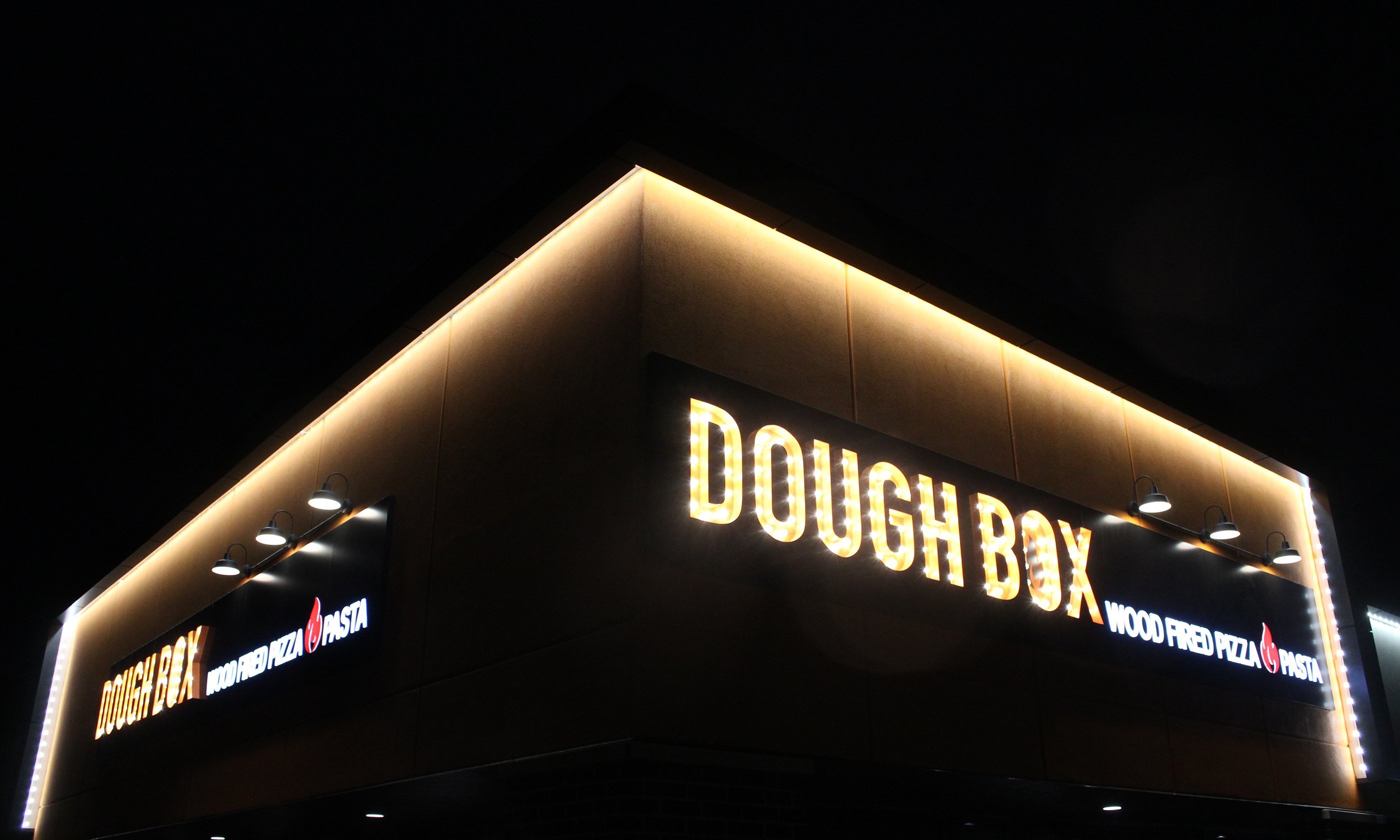 New signage at DoughBox Wood Fired Pizza Pasta in Guelph is seen lit up during the early morning of Saturday, Dec. 3. — Ned Bekavac/Metroland
SIGN OF THINGS TO COME
New signage is up at the future home of DoughBox Wood Fired Pizza Pasta in Guelph.
While their website indicated that the location would be open in October, the new restaurant is still taking shape and workers were seen there this week. The Mercury Tribune didn't hear back this week about a potential opening date. Earlier this year, a rep from the restaurant said people can check out their social media channels for news.
DoughBox will be at 292 Stone Rd. W., previously a longtime home to Pizza Hut. (UPDATE JAN. 8: DoughBox is now open.)
From Japanese eats to wings and other things, here is a look at some eateries that are popping up in Guelph.
AND THE SIGN SAYS
A couple of new places and a closure can be found at the corner of Stone and Edinburgh roads, at Stonegate Plaza.
• Brand signage and more are up at one of the units that will soon be home to Edo Japan, a Japanese food place that says it's famous for its teriyaki. Check out hiring information at edojapan.com/locations/stonegate-plaza. (UPDATE NOV. 20: Edo Japan is now open.)
• Coming around, next to Edo, is DoughBox Wood Fired Pizza Pasta.
DoughBox "takes the next step in the pizza revolution by getting back to the basics within a quick-service environment," says their website.
"Our signature freshly stretched dough, homemade sauces, wide range of premium ingredient choices and the flavour of a wood-fired oven will bring you to tastebud nirvana."
That area was previously home to an eat-in, restaurant-style Pizza Hut that was there since 1985. That is now closed and earlier this year a smaller version offering carry-out and delivery opened a stones throw from Stone — on Scottsdale Drive. (UPDATE JAN. 8: DoughBox is now open.)
• Also in the Stonegate Plaza, Omo Fresh Foods is now closed for good and "for lease" lettering is up in the windows. They still have a location in Kitchener.
BIG ON MAC AND WINGS
• Over at Campus Estates Plaza on Harvard Road, a foodery that features wings, mac and cheese, and more opened its doors in early October.
Mac n' Wings (35 Harvard Rd., Unit 25) has more than 100 finger-lickin' flavours of chicken wings and 20-plus flaves of mac and cheese. Visit macnwings.ca.
DOG DAY
• In the same plaza and not far from Mac n' Wings is Chungchun Rice Dog (same address, Unit 16), which opened recently. Their specialty is Korean-style hot dogs. Founded in 2017, the chain's first location opened in Seoul, South Korea.
"Unlike traditional flour-based batter, we add a flour made from glutinous rice, which makes our hot dogs deliciously soft and chewy," reads their website.
Visit chungchunricedog.ca for more info and, of course, to check out pics of the dogs and toppings.
SOON ON SILVERCREEK
• On Silvercreek Parkway, a place "Where the day starts" is coming together. L'Angolo Café, which has coming soon written on its door (UPDATE JAN. 8: L'Angolo Café is now open), is next to the future Royal Paan (204 Silvercreek Pkwy. N.,), which is beside the Pita Pit there. (UPDATE DEC. 6: Royal Paan is now open.)
SHARE: