Guelph college students give again to lift consciousness of the weak
Grade 3/2 class at Guelph Community Christian School, and has written a book about vulnerable people, which will be used to raise funds for Hope House, and are also packaging soap to donate to the organization
Students from Guelph Community Christian School are putting action to lessons about vulnerable people and giving back by helping out Hope House.
This month, the Grade 1 and Grade 3/2 classes are packaging and donating soap bars to Hope House for its market program. On Tuesday afternoon, 15 students separated and packaged bars of soap into bags.
Jan Klassen, the Grade 3/2 teacher, said this isn't the first time she has had a class help package items for Hope House.
"We started last year, because we couldn't go anywhere during COVID," said Klassen, "and so we would do the assembly line here and once a month we started doing it here."
Susan Tough, food market coordinator at Hope House calls the effort a 'beautiful partnership.'
"It's a wonderful gift to us to have the help, but also the support," said Tough.
Besides packaging soap, the Grade 3/2 students have been putting together a book which focuses on the A to Z's of what the students have learned about vulnerable people within the community.
The book cover of the C is for CARING: We care about our vulnerable neighbors which was written by the Grade 3/2 class at Guelph Community Christian School. Ariel Deutschmann/GuelphToday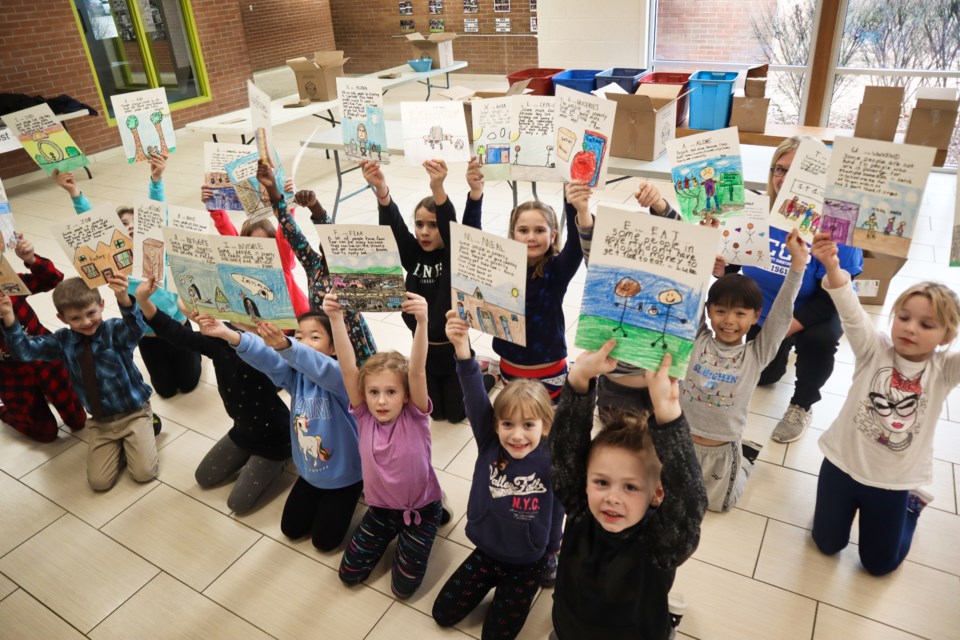 Besides packing soap, the students have also made an alphabet book about all the things they have learned about vulnerable people. The book will be published and available for purchase, which will go back to Hope House. Ariel Deutschmann/GuelphToday
"This is kid-inspired, kids teaching kids," said Klassen, adding after students brainstormed an alphabet list, they were asked to form a sentence using one letter which was then voted on if it would be added into the book. "We went through the whole alphabet and the kids brainstormed what they had been learning."
Inspiration for the book came when the class visited Hope House in the fall. During their visit, students participated in a game with Hope House executive director Jaya James called 'Would You Rather.' At first, Klassen said the game started off with fun questions for the kids.
"Then, the question turned into, 'Would you rather feed your pet than yourself? Would you rather be warm or have food? Would you rather have a car or a home?'" said Klassen. "It became like, 'Huh, what?' and then it wasn't a game anymore, and it led to a lot of teaching."
Students recall that game feeling torn upon realizing some of the choices vulnerable people within their community face.
"Happy, but I was sad at the end," Ryan Oland said about playing the Would You Rather game.
Classes adds one of the things students are noting is a lot of vulnerable people don't have a strong sense of belonging.
"A lot of these (vulnerable) people feel lonely, unloved, invisible, they have no community, and the kids are picking up on this," said Klassen.
Caris Mulholland and Max Chiang also talk about learning how raising awareness about vulnerable people creates a positive 'domino effect.'
"If they learn something about poverty from what we have been learning about, then it's like the kids telling that to other people and they tell others," said Mulholland.
"Help someone else, a domino falls, and then one domino falls and another domino falls and another," adds Chiang.
With the book organized, Klassen said the next step is it will be published and available for purchase. Proceeds from the book will be going back to Hope House.
"It's an awareness book that I think is friendly enough to go into schools, to go into libraries, and even go onto Amazon," said Klassen, "we'll start small and hope to go far."